As summer fades like a sunset, you're likely yearning for that cozy, autumnal feel inside your RV. Don't worry, we've got you covered! Here's your ultimate guide to embracing fall's warm hues, unique exterior decorations, and comfy interior updates. You'll also find DIY decor projects and tips on incorporating cozy textiles. So, let's get your RV ready for those crisp fall evenings, shall we?
Embracing Autumn Colors
Your appreciation for autumn's vibrant palette can dramatically transform your RV into a cozy, fall-themed haven. You don't need a huge budget or a lot of space to bring the season's magic inside. Start by swapping out your usual decor with rich, warm hues that reflect the season's changing leaves. Think deep reds, burnt oranges, and golden yellows. You could add a couple of fall-themed throw pillows or a cozy, plaid blanket. Small touches like candles in autumnal scents can also do wonders in setting the mood. Remember, it's about creating a space that feels warm and inviting. Now, let's take your seasonal transformation to the next level by discussing some ideas for seasonal exterior decorations.
Seasonal Exterior Decorations
While you've done an incredible job cozying up the inside of your RV, let's not forget about the exterior; it's time to make it shine with the spirit of autumn too. Start by festooning your RV with string lights in warm fall colors. Hang a wreath of autumn leaves, berries, and pinecones on the door. Make use of hay bales, pumpkins, and cornstalks around your RV to create a rustic, festive feel. Don't forget to change up your outdoor rugs and furniture covers to match the colors of fall. Lastly, a cozy fire pit surrounded by comfortable chairs will complete your RV's autumnal look. Remember, it's all about creating a cozy, welcoming space that celebrates the season.
Updating Your RV Interior
Moving on from the exterior, let's now delve into the heart of your RV, updating the interior for a festive fall touch. Start with swapping out your summer linens for cozier, thicker fabrics. Think flannel sheets, plush throws, and knitted blankets in shades of burgundy, burnt orange, and mustard.
Next, spice up your living space with autumn-inspired décor – scatter a few rustic throw pillows, hang leaf or pumpkin garlands, and place scented candles around. Don't forget the kitchen area! Festive dish towels, autumn-themed mugs, and a bowl of faux apples or pumpkins can do wonders. Remember, it's all about creating a warm, inviting space. With these tips, you'll have a cozy, fall-ready RV in no time.
DIY Fall Decor Projects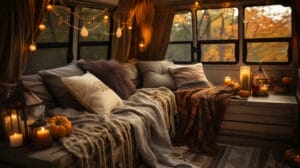 Now, let's tap into your creativity with some DIY fall décor projects that'll give your RV a unique, personal touch. Start by making a fall wreath for your RV door using autumn leaves and mini pumpkins. It's simple, inexpensive, and adds a warm, welcoming touch. For your windows, consider creating fall-themed decals with leaves or pumpkin designs. These can be easily removed when the season ends. If you're crafty, try sewing your own patchwork throw blanket. Incorporating fall colors, this cozy addition will make your RV feel like a snug retreat. Don't forget about scents – DIY cinnamon pinecones are easy and fill your RV with a delightful autumn aroma. Get crafty and embrace the season in your RV!
Cozy Textiles for Comfort
You'll find that adding cozy textiles to your RV can dramatically elevate the comfort level during chilly fall nights. Thick woolen blankets not only provide warmth but also add an inviting rustic charm. Opt for earthy tones that reflect the season; think rich burgundies, warm oranges, and deep greens. Cushions in various sizes and textures also contribute to a cozy atmosphere. Don't overlook the floor! Area rugs can provide both warmth and style, tying your decor together. Lastly, invest in thermal curtains. They'll keep the cold at bay while giving you privacy. Remember, it's not just about aesthetics; it's about creating a snug retreat from the cold. With the right textiles, you'll make your RV a perfect fall haven.
Lighting for Autumn Evenings
A few well-placed lights in your RV can truly transform it into an enchanting autumnal haven. As evenings become chillier and nights draw in earlier, you'll appreciate the warm glow that thoughtfully chosen lighting can bring.
Consider these options for your RV:
String Lights: Drape these around your interior for a magical, twinkling effect.
Lanterns: Place these outside for a cozy, inviting ambiance.
Candles: Opt for LED ones to avoid fire hazards. They'll still give that autumnal, flickering glow.
Each light source can create a different mood, so don't be afraid to mix and match. In the next section, we'll look at some practical tips for fall maintenance to ensure your RV stays in tip-top shape throughout the season.
Practical Tips for Fall Maintenance
While embracing the cozy, autumnal vibes in your RV, it's also crucial to remember your vehicle's fall maintenance needs. You don't want to be caught off guard by the cold weather right around the corner, so be sure to check your heating system. It's important that your RV's furnace is working properly to keep you warm during those chilly fall nights.
Next, inspect your RV's roof and seal any leaks to prevent water damage. This is particularly important as we head into the wetter seasons. Also, don't forget to check your tire pressure – fluctuating temperatures can cause it to drop.
Lastly, give your RV a good clean, both inside and out. A clean RV is a happy RV, and it'll make your fall adventures even more enjoyable.